***NO ORDERS WILL BE ACCEPTED AFTER TOMORROW NOVEMBER 14TH AT 12:00PM ** * GEAR HALO and SPIRIT CALENDAR FUNDRAISERS
---
---
FINAL CALL FOR GEAR HALO & HOCKEY CALENDARS
ANY ORDER RECEIVED PAST 12:00PM NOVEMBER 14TH WILL NOT BE ACCEPTED

PLEASE CONTACT ALLISON ASAP;
EMAIL allisonb@bond-ocommunications.com
TEXT (403) 740-9696
ALLISON WILL BE IN THE ARENA LOBBY COLLECTING ORDERS ON THE FOLLOWING DATES AND TIME

OCTOBER 29TH 6:30-8:00PM
NOVEMBER 4TH 6:00-8:00PM
NOVEMBER 5TH 6:00-8:00PM

PLEASE CONTACT ALLISON WITH ANY QUESTIONS YOU MAY HAVE
*****
PLEASE NOTE THAT TO RECEIVE VOLUNTEER HOURS YOU CAN COMBINE ITEMS TO COMPLETE HOURS:
8 HOURS YOU NEED A COMBINATION OF 25 ITEMS SOLD (EX. 20 CALENDARS & 5 GEAR HALO)
4 HOURS NEED A COMBINATION FOR 15 ITEMS SOLD (EX. 4 CALENDARS & 11 GEAR HALO)
ANY QUESTIONS PLEASE CONTACT ALLISON OR JERILYNE
*****


FUNDRAISER INFORMATION:
All Teams should be receiving paper copies of the documents below from Managers shortly.
These fundraisers will help you get your volunteer hours for this season.

EACH FAMILY within SMHA must complete 8 Hours a season (no exceptions), for more info on other opportunities for this season you can visit the website at anytime. http://www.stettlerminorhockey.com/content/volunteer-hours-information

Thank you for your continued support to SMHA, Good Luck selling!



Any Fundraiser Questions can be forwarded to Allison Baird allisonb@bond-ocommunications.com
Any Volunteer Hour Questions can be forwarded to Jerilyne Raab cjraab@telus.net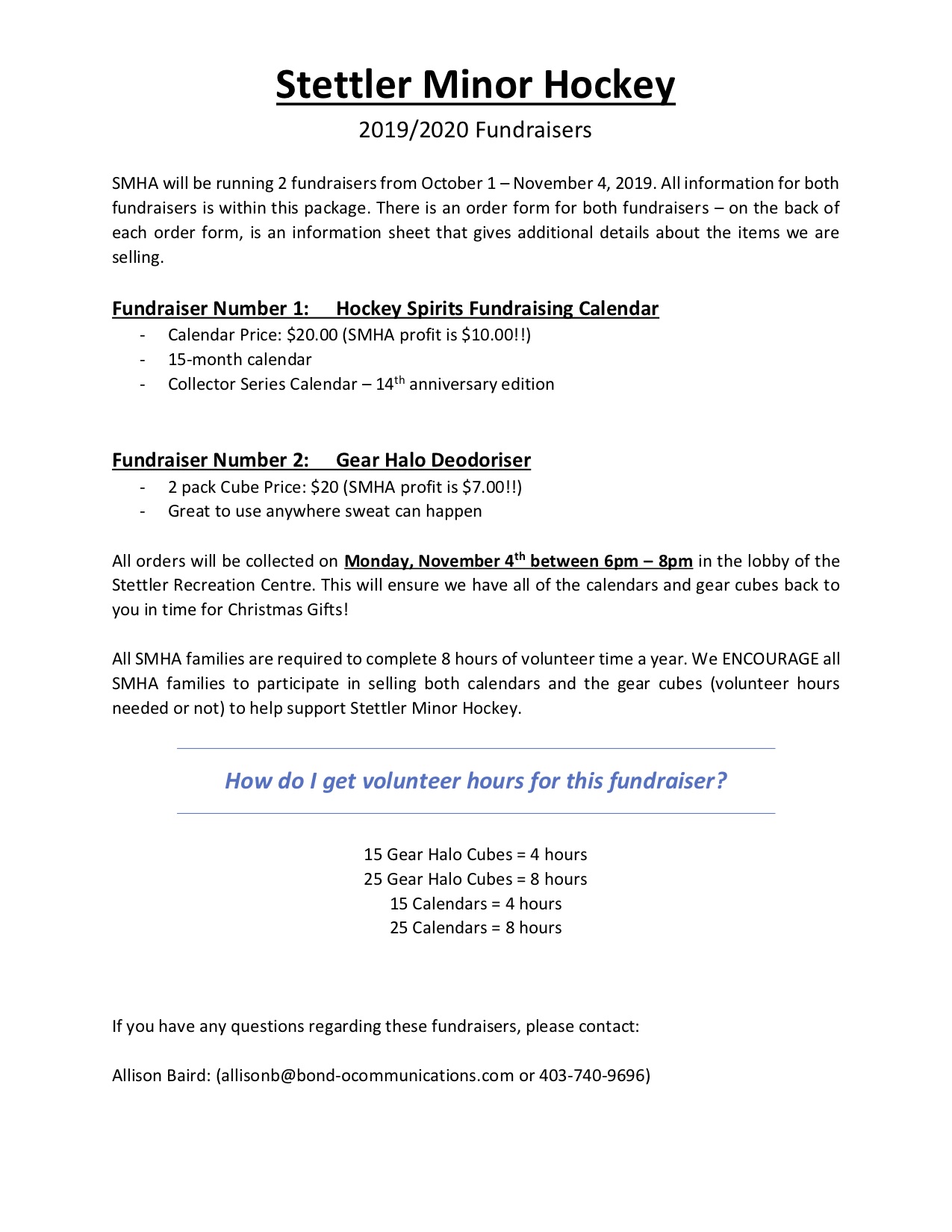 (CLICK ON BELOW POSTERS FOR ORDER FORMS FOR BOTH ITEMS)